If you have purchased a vehicle, only to have it break down repeatedly, you may be able to get your money back or get a replacement vehicle under California's "lemon law". You may also get your out-of-pocket expenses back, including the money you had to spend on towing, renting a car, and even your attorney's fees. California lemon law cases are complex and there are several laws which may apply depending on the circumstances in your case, as well as deadlines for taking legal action. Please, do not wait until it is too late to talk to an experienced California lemon law attorney.
Manufacturer's Warranty
If your vehicle is covered by a manufacturer's warranty or if the problems started while it was covered, you may be entitled to a refund or replacement vehicle. To qualify, you must have taken the vehicle to the manufacturer's authorized repair facility. If they were unable to correct the problem after a reasonable number of attempts, you have a lemon.
California presumes the vehicle a lemon if the repairs began within the first 18 months or 18,000 of you owning the vehicle and any of the following conditions exist:
You have not been able to use the vehicle for more than 30 days because it was in for warranty repairs.

Your vehicle still has the same problem that affects its value or use after the manufacturer or dealer has made at least four attempts to correct it.

Your vehicle still has a problem that makes it unsafe to drive after two attempts at repairing the problem.
California Lemon Law
(The Law Offices of Howard Silver)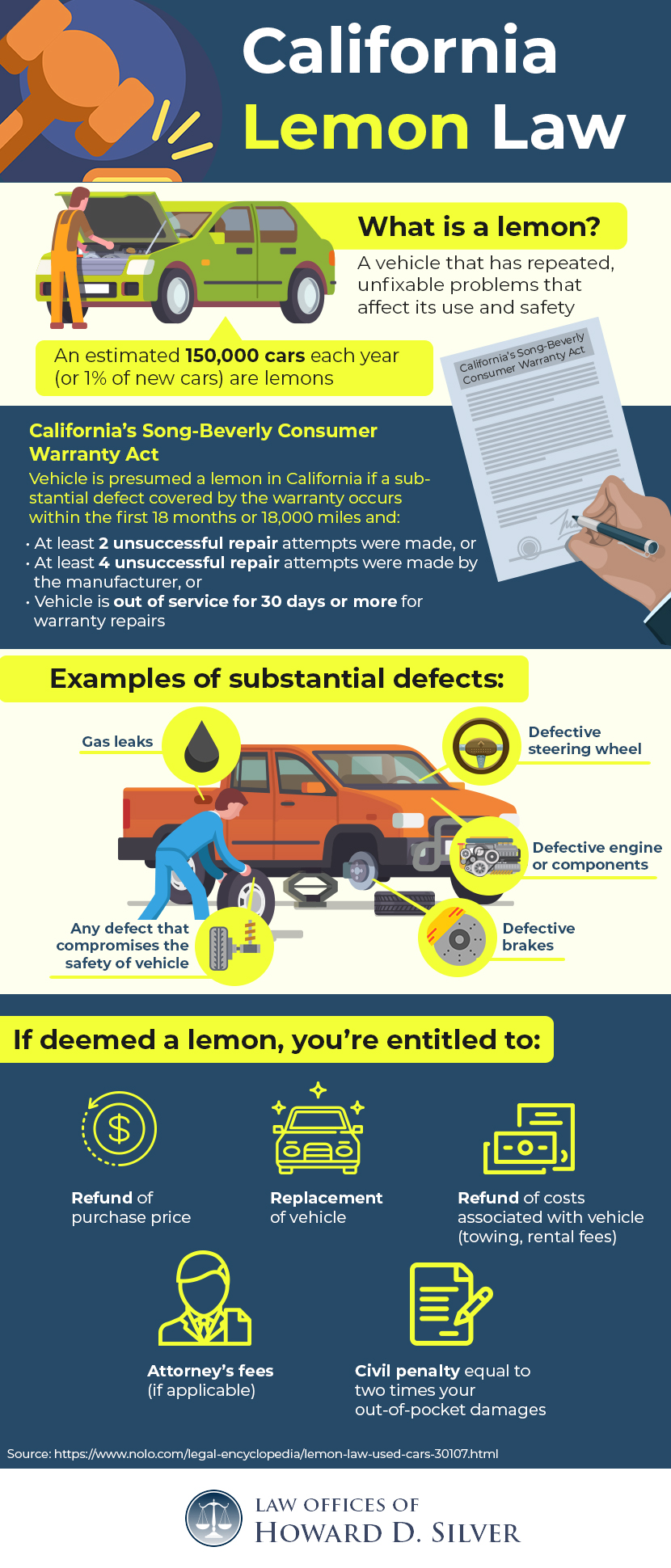 Other Situations
There are many situations where you may be protected by consumer protection laws if you have purchased a lemon in California. Please view this informative slideshow to learn more about California lemon laws and how an attorney can help.
If you believe that you may be entitled to a refund or replacement vehicle, please contact an experienced California attorney today.