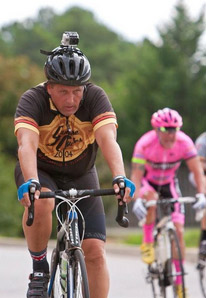 Wearing a Garmin or a Go Pro camera on your bicycle helmet to record bike accidents might seem extreme, but cyclist Alan Crocker would disagree. Croker, who lives in Dalton, Georgia, was biking on Old Dalton Road to his job in Rome, Georgia when a pickup truck passed him on the left. Croker felt that the truck did not maintain a safe distance while passing, so he flipped the driver the bird. The driver responded by trying to block Croker in, passing him closely once more, and then driving away.
A few miles down the road, the pickup truck was waiting. When Croker approached, the driver, Johnny McIntosh, exited his vehicle, pushed Croker off his bike and wrestled with him before returning to his truck and again driving off. McIntosh called 911 to report that he was being intimidated by a bicycle rider. However, because Crocker had been wearing a Garmin camera on his helmet, the entire incident had been recorded. After watching the video, police charged McIntosh with battery and took him to jail.
This is but one illustration of how a "picture" (or in this case video) is "worth a thousand words" when it comes to proving a legal case.  As we have seen with many instances in the news of late, video footage can be the difference between having your side of the story proven or not and can make a great difference in providing necessary evidence for bicycle accident claims.
Example: Using Video Evidence to Show Violation of CA "Three Feet For Safety Act"
Many states are enacted laws that protect cyclists.  For example, on September 16, 2014, Section 21760 was added to the California Vehicle Code. The code states that "A driver of a motor vehicle shall not overtake or pass a bicycle proceeding in the same direction on a highway at a distance of less than three feet between any part of the motor vehicle and any part of the bicycle or its operator." If keeping a distance of three feet while passing is impossible, the driver must slow down and pass the bicycle without endangering its safety.
While these and other laws are great in theory, proving that a motorist failed to keep a safe distance from a bicycle and caused a crash can be difficult, especially when there are no witnesses. It's the word of the motorist against that of the cyclist. Having a camera on your helmet can help to establish who is at fault.
The Dangers of Bicycle Riding
California has more cyclists than any other state. When a motor vehicle collides with a bicycle, the bicycle rider is always the loser. According to the National Highway Traffic Safety Administration, more than 48,000 bicycle riders were injured in 2011. That same year, almost 700 bicyclists were killed in collisions with motor vehicles. The number of fatalities has increased ever since.
Getting Hit by a Motor Vehicle Can Result in Serious Injuries
Protected only by a helmet, bicycle riders are extremely vulnerable when hit by motor vehicles. Serious and life-changing injuries can occur that result in long-term disabilities:
Spinal cord injuries can cause total or partial paralysis either temporarily or for life. This, in turn, can mean a complete change in lifestyle. The injured bicycle rider might have to use a wheelchair, purchase a wheelchair-equipped van and/or have to use stair lifts and chair lifts.
Traumatic brain injuries can result in amnesia, disability, unconsciousness, coma or death.
Lost limbs can mean a long period of rehabilitation while learning to use a prosthetic device.
Broken bones and fractures may require an extended hospital stay. The injured bicycle rider might be unable to work or resume normal activities.
Medical Expenses Due To Bicycle Injuries
If you are severely injured after being hit by a motor vehicle, the medical expenses can be staggering. According to the Henry J. Kaiser Family Foundation, a stay in the hospital could cost you almost $3,000 per day. Even with excellent health insurance coverage, you can still wind up thousands of dollars in debt. If your injuries are severe, you might also be facing a lifetime of lost income because you can no longer work.
How A Personal Injury Bicycle Accident Attorney Can Help
Have you been injured in a bike accident due to the negligence of a motor vehicle driver? If so, you may be entitled to compensation. Damages could include:
Inpatient hospitalization costs
Doctors' fees
Surgical bills
Special procedures
Rehabilitation costs
Ongoing medical care
Special equipment
Lost income
Lost quality of lifeEmotional pain and suffering
If you try to represent yourself in court against a high-powered motor vehicle insurance company, you may be bullied into settling for less than you are due. A personal injury attorney can represent your interests by conducting a thorough investigation of your accident and determining the full amount of compensation you deserve.
Author Bio: Steven M. Sweat, Esq. (Principal of Steven M. Sweat, APC) is an award-winning personal injury attorney based in Los Angeles, CA with an emphasis in motor vehicle accident claims including those involving cyclists.  He is a regular contributor to this blog and other blogs related to personal injury law